The development trend of Bluetooth technology

【Emerging Markets】
Smart Home: With its advantages of popularity / wide application, low power consumption, and small size, Bluetooth provides a reliable wireless connection platform for smart homes, and realizes automatic control in scenarios such as lighting, door locks, curtains, and doorbells. For example, lighting,the compound annual growth rate in the next five years is expected to reach 54%.

Smart industry: At present, many factory floors are equipped with Bluetooth sensors to improve production efficiency and safety, and smart phones and tablet computers are becoming central control equipment in factories and industrial environments, providing a safer interface for monitoring and controlling industrial machinery.

Smart buildings: Due to the realization and development of indoor positioning, the concept of "smart buildings" has been gradually expanded, and the introduction of Mesh technology marks the official entry of Bluetooth into full building automation.

Smart City: The most dazzling urban development in recent years is undoubtedly the sharing economy, sharing-bike is the most public concern. Government officials and city managers are also deploying Bluetooth smart city solutions to improve transportation services. Among them, Bluetooth Beacon is creating a rich personalized experience for malls, stadiums, and museum visitors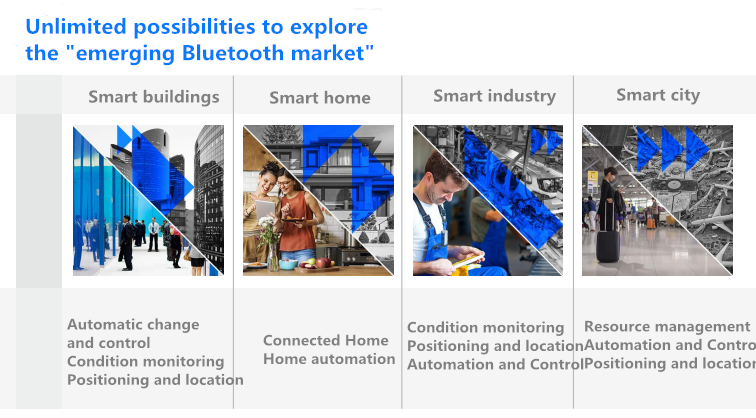 【Traditional Market】
Mobile phones,laptop and personal computers: Compared with any previous version, the latest version of the Bluetooth core specification "Bluetooth 5.0" will be more quickly adopted by smartphones, further accelerating the support of connected devices, Beacon devices, and key IoT Extensive deployment of solutions.
Cars/vehicles : Bluetooth has become the standard for most new cars. According to the latest data in 2018, up to 86% of all new cars will have Bluetooth connectivity. The Bluetooth wireless sensor system can transmit detection information and alarms to service management solutions.

Connected devices: In the traditional fields of audio and entertainment, wearable, medical, consumer electronics, etc. will continue to grow with the development of Bluetooth technology.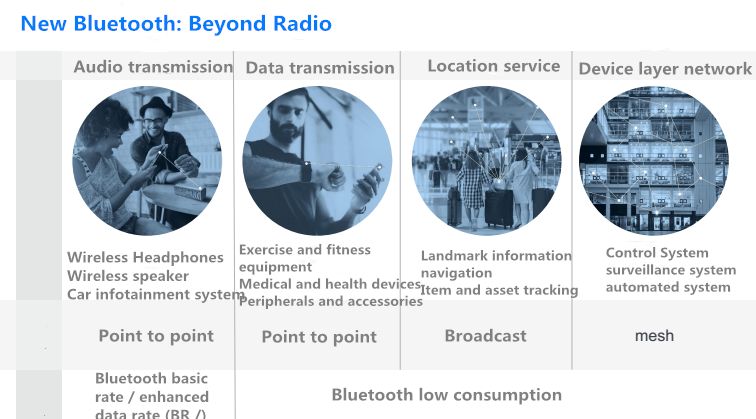 Data transmission: BLE Bluetooth's extremely low power data transmission makes it an ideal choice for connected device products.

Audio transmission: The Bluetooth basic rate / enhanced data rate (BR / EDR) point-to-point topology has been optimized for audio transmission, making it a standard carrier for wireless audio.

Location service: The Bluetooth low energy broadcast topology is especially suitable for indoor positioning and location-based services. The Bluetooth Beacon-based indoor navigation solution has quickly become a standard method that can deal with indoor coverage that GPS cannot solve.

Device layer network: The introduction of Bluetooth Mesh has accelerated the development of device network solutions, improved productivity, reduced building operating costs, and better met production equipment requirements for environmental conditions and maintenance.