Smartphone PEPS solution for Automotive
The keyless entry & start system referred to as the PEPS system, useing advanced Radio Frequency technology to unlock the door and enter the car without the need to operate the car's remote control key. Under the existing technical conditions, PEPS has more intelligent access control management and higher anti-theft performance, and has gradually become the mainstream of automotive electronic anti-theft system applications. However, with the vigorous promotion and development of the new energy automobile industry in recent years, the car networking process has been accelerating, and more and more IOT innovation technologies have been widely used in cars. People are constantly proposing new conveniences for travel convenience. The demand not only realizes the interconnection and mapping between car and mobile phone, but also the unlocking and starting of the car, and hopes to complete it with the mobile phone. In addition, the driver's license and the driving license are electronically trended, and the car can be started by simply carrying the mobile phone.
Advantages of Bluetooth Keyless Entry and Startup System for Shengrun Technology New Energy Vehicle:

1. Convenient and fast: no need to carry the car key, use the widely used mobile phone as an interactive work. Implement a mobile phone to control a car.

2, Safe and reliable: hardware encryption and storage technology to ensure communication security, virtual key system data encryption and decryption using encryption chip to complete, the key is saved by the encryption chip to ensure the security of data encryption and decryption and preservation process.

3, Low Energy consumption: Bluetooth BLE technology, lower power consumption.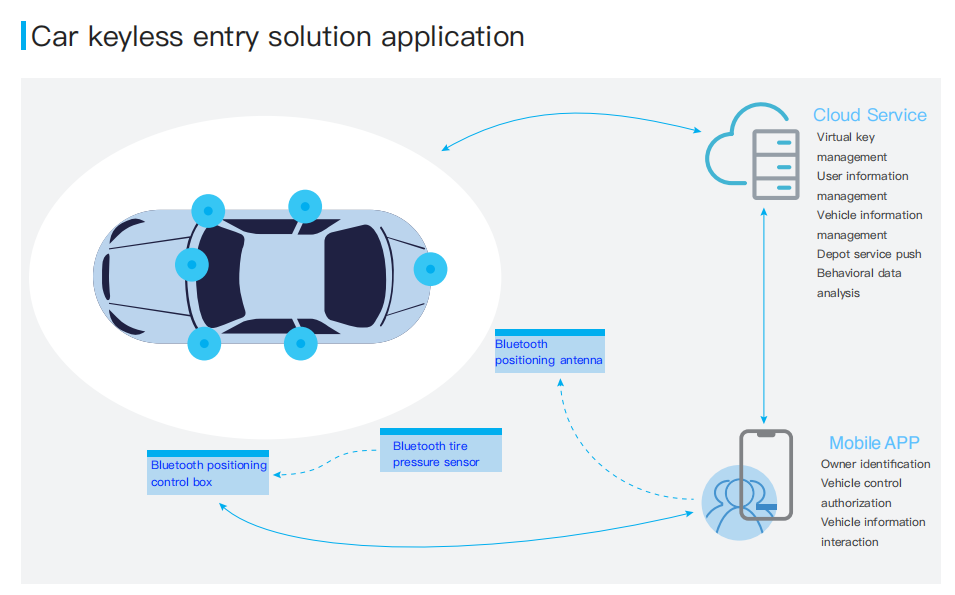 Advantages:

1.Car-level Bluetooth 4.2/5.0 BLE chip solution, transmission distance is farther.

2. Higher security, more stable

3.Combined with the positioning algorithm, using multiple Bluetooth antennas to achieve accurate positioning of the mobile phone close to the vehicle

4,Just need mobile phone and vehicle to complete two-way identity authentication, use the mobile phone to unlock the door, start the engine and get vehicle status information, etc, greatly improving convenience.

5.Provide API for mobile APP development

6.The car scale block can be mature quantitative.