Shengrun's corporate philosophy
The development of social era has made the social division of labor more and more refined. As far as Bluetooth is concerned, more and more enterprises are beginning to abandon or directly transfer complete work of developing and producing Bluetooth systems to some Bluetooth solution providers to implement Bluetooth BLE functions. Among many Bluetooth providers, Shengrun Technology is at the forefront, and through the method of providing SDK Bluetooth development kits for enterprises, helps enterprises to realize intelligentization, greatly reduces the R&D costs and employment costs of enterprises, and greatly dropped the risk of development.
Support secondary development
At present, most Bluetooth modules on the market still cannot support users for secondary development. Even if supported, users need to spend lots of time to learn the relevant knowledge of MCU and Bluetooth protocol, finally lead to half the effort. After years of development and market operation of accumulation, Shengrun Technology has launched the Bluetooth 4.2 BLE wireless solution based on TI CC2640R2F, developed a variety of low-power, high-performance Bluetooth modules supporting secondary development, and provides Bluetooth SDK packages. In particular, the feature of supporting secondary development is to enhance product space and further appreciation for Enterprise.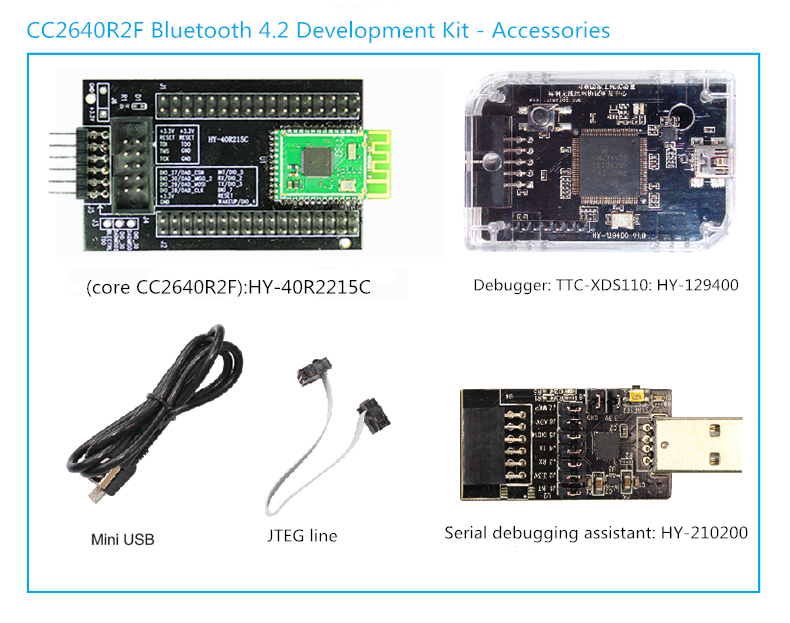 Radiation most industries
With the high quality and great service of Bluetooth modules, the current Bluetooth service of Shengrun Technology has spread all over the smart home, smart wear, health care, automotive electronics, sports and fitness, industrial and other industries. The Bluetooth service provider of Shengrun Technology help enterprises not only to get rid of the Bluetooth R&D burden,but also to invest more money and manpower into the technology, R&D of the product itself.
TI third-party partner
Shengrun Technology has established a long-term and stable relationship with TI (Texas Instruments), the world's leading semiconductor company. As a third-party inland partner of TI in China, Shengrun Tech has been focusing on the development and application of TI Bluetooth BLE MCUs from CC2541. To CC2640, from CC2640 to CC2640R2F, with a wealth of experience in TI's Bluetooth® BLE wireless MCU platform products. Shengrun Technology SDK simplifies and packages TI's software development kits according to industry applications. Developers do not need to touch complex Bluetooth protocol stacks. They only need to adjust the corresponding API interface to develop various Bluetooth products, and the development tools also include Chinese Description and development examples to get Bluetooth app developers to get started faster.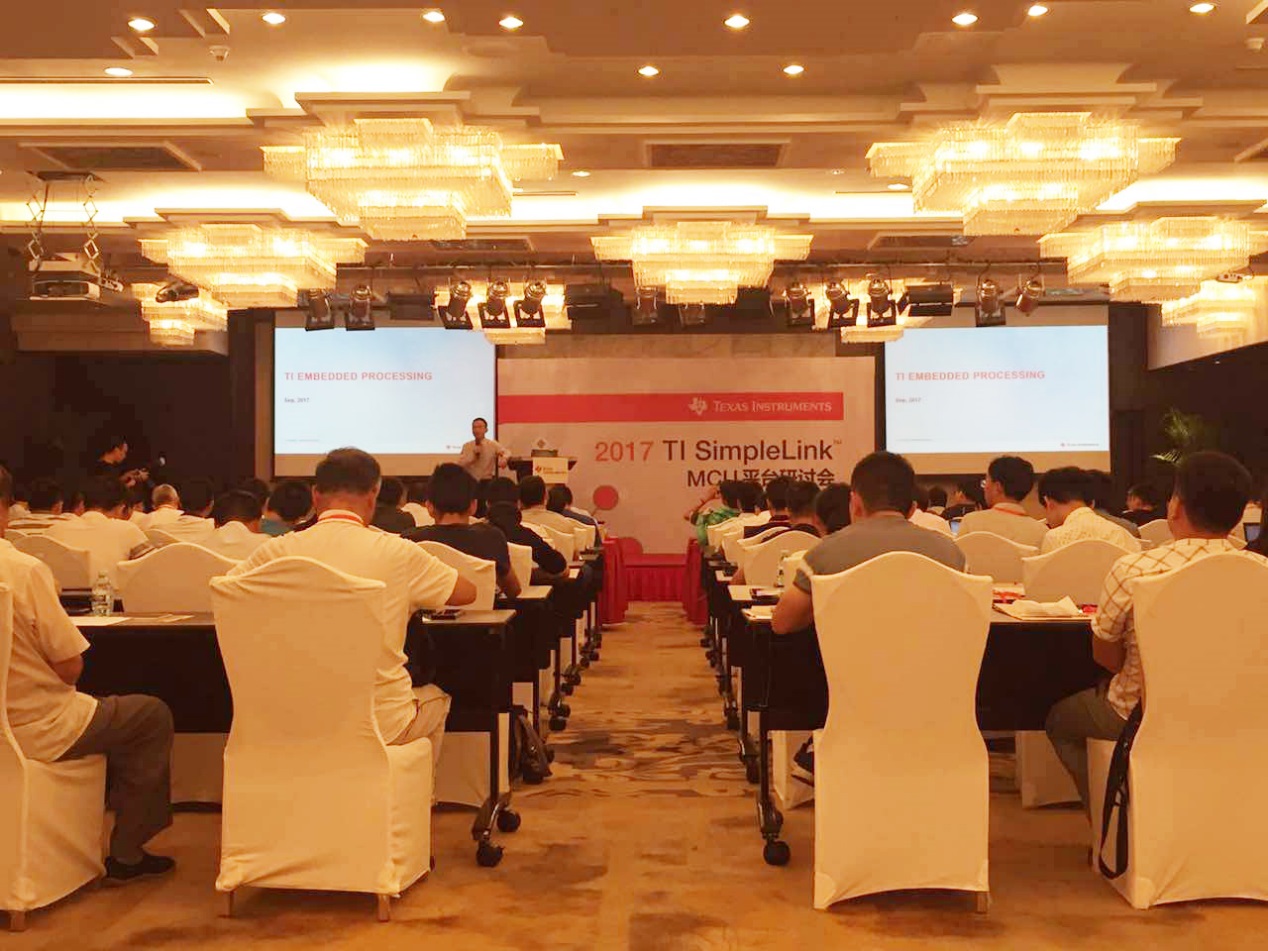 Professional international certification
On the other hand, while strengthening the domestic market, Shengrun Technology has gradually begun to lay out International markets. At present, Shengrun Technology has launched a BLE module through mandatory Bluetooth certification (BQB certification) - HY-40R204 series and HY-40R201 series, built-in Bluetooth v4.2 BLE protocol, hardware support upgrade Bluetooth v5.0. Shengrun Technology passed the BQB certification, become the first Bluetooth solution company in China to officially pass the Bluetooth v5.0 certification. Greatly proves that Shengrun has reached the industry leading level in the field of Bluetooth technology research and development and product application.
Not only that, the Bluetooth module of Shengrun Technology(TTCIOTSDK) has passed the EU CE-RED, the US FCC, the Canadian IC certification, and the professional international certificate blessing, which further established the leading position of Shengrun Technology(TTCIOTSDK) in the BLE technology market, and enhanced Shengrun Technology's confidence in opening up overseas markets to help domestic terminal manufacturers to better innovate Bluetooth products into the international market and promote the development of China's Bluetooth industry in the international market.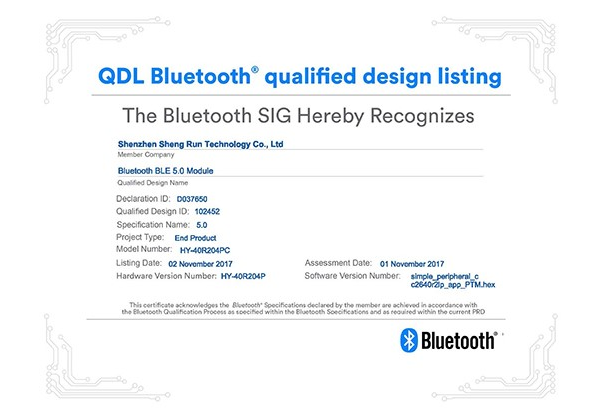 As a well-known brand in China's Bluetooth marketing, Shengrun Technology (TTCIOTSDK) will continue to adhere corporate philosophy, the "customer-centric, provide customers with more professional Bluetooth SDK development platform, Bluetooth BLE customized solutions to solve customer applications in the wireless Bluetooth protocol and Bluetooth module products, Promote customers to accelerate product upgrades, improve competitiveness, and achieve a win-win situation." to provide better Bluetooth solutions for China and the all over the world enterprises.