Bluetooth module supporting secondary development
The Shengrun Technology HY-40R204P is a Bluetooth module based on TI's Bluetooth 4.2 BLE wireless solution that is low-energy, high-performance and supports secondary development. The module has a programmable ARM-Cortex-M3 processor (80KB of available application code space, customers can use for secondary development), embedded in a complete application. Supports bridge mode and direct drive mode, suitable for all kinds of smart products, such as smart home equipment, wearable device, medical equipment, industrial automation control equipment, automotive electronics, consumer electronics and so on.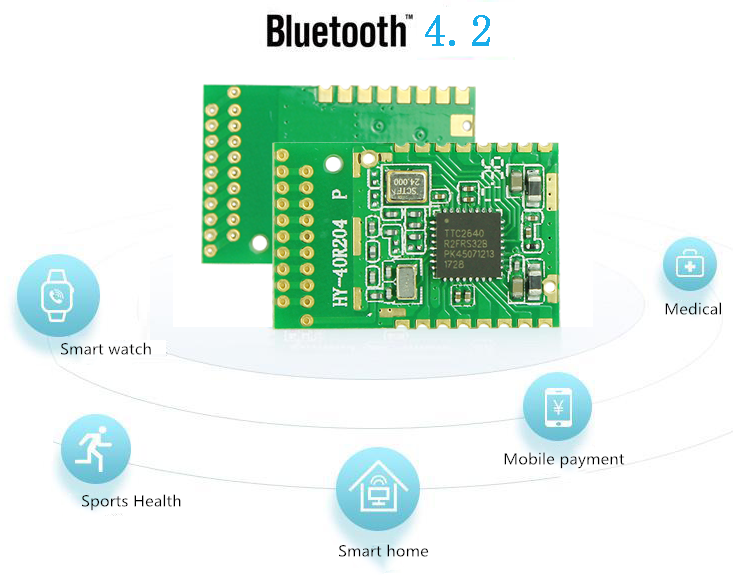 HY-40R204P can help customers to bypass the tedious RF hardware design, development and production process, and HY-40R204P has built-in complete Bluetooth 4.2 BLE transmission protocol, users can quickly develop and use without knowing the contents of Bluetooth protocol. With a complete software development platform to meet the needs of users of rapid secondary development, shorten the development cycle.
Due to the complexity of the Bluetooth protocol stack, users often develop problems with their own development. With its own technical advantages, many years of market experience and actual needs of users in the industry, Shengrun Technology has launched the Bluetooth 4.2 development kit based on TI CC2640 R2F chip. Users only need to focus on implementing the applications they need. It is understood that Shengrun Technology has made in-depth research and innovation on the convenience of accessing Bluetooth in the IOT, After long-term technical accumulation, Bluetooth 4.0 and Bluetooth 4.1 development kit based on TI Bluetooth chip platform has been launched and successfully It has helped many companies to quickly develop applications for Bluetooth products and get market opportunities.
What is the CC2640R2F SDK Development Kit?

The TTC CC2640R2 SDK Development Kit is a rapid development tool for TI's CC2640R2F chip development. It fully supports Bluetooth 5.0, and optimizes the Bluetooth protocol stack and RTOS to solve the RTOS usage habits, making it more acceptable for more local application engineers. The TTC CC2640R2 SDK provides APIs for Bluetooth parameter settings, Bluetooth data transceiving, Bluetooth status processing, etc. It also provides the test programs required for production, eliminating the need for developers to design test programs.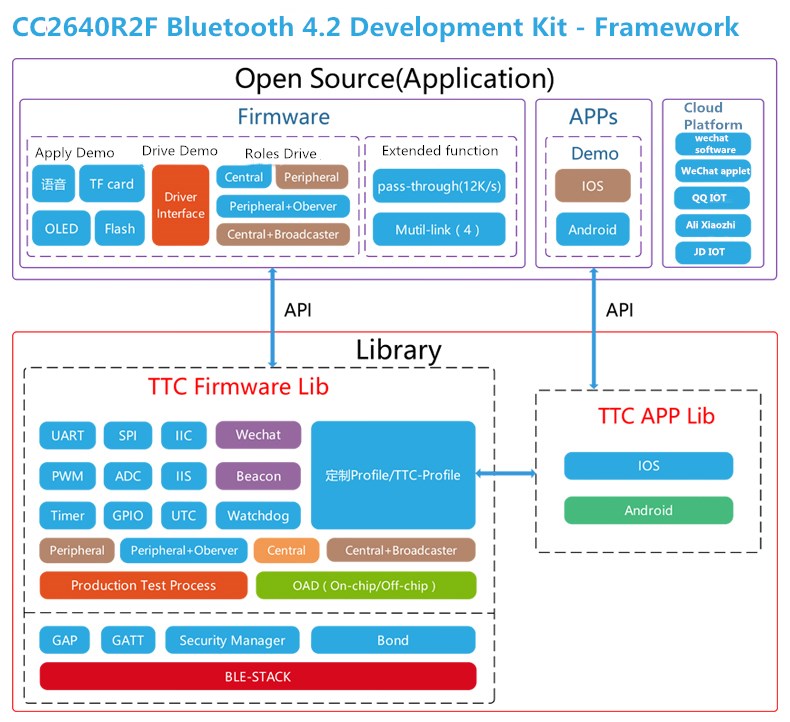 Transmission distance

Bluetooth 4.2 HY-40R204P module transmission power is -21~5dBm (user can be set by software), the maximum transmission distance is up to 120m, which can meet most applications with Bluetooth connection.
For more information about Bluetooth 4.0, 4.1, 4.2 5.0 BLE modules, please visit Shengrun Technology's official website to view the details.
http://www.ttcble.com