New ocean of IOT contains unlimited business opportunities, Bluetooth 5.0
With the advent of the era of smart cities, artificial intelligence, and big data, wireless communication will realize the connection of all things. In the future, the global IOT will be an era of trillion-level connections. Most of the existing wireless connections are carried by short-range communication technologies such as Bluetooth and Wi-Fi.
As we all know, the IOT is the next huge blue ocean market with business opportunities. In the application of IOT, Bluetooth initially lags behind due to its shortcomings such as poor networking capabilities and low data transmission. However, Bluetooth 5.0 has been optimized for IOT, making Bluetooth a strong competitor in IOT wireless connection market.

The Bluetooth 5 standard introduced by the Bluetooth Technology Alliance is twice the transmission rate of the previous generation, and the transmission distance is 4 times the previous version. The effective working distance between the transmitting and receiving devices reaches 300 meters, and the data carrying capacity of the broadcast packet is also the previous version. 8 times. In addition, Bluetooth 5.0 also significantly reduces power consumption.
In addition to the core part, Bluetooth 5 has a major advantage is that it supports indoor positioning and navigation functions, which can achieve indoor positioning with an accuracy of less than 1 meter, and allows connection transmission without receiving beacons, which will mean that the upgrade of Bluetooth 5 will expand application of networking, especially in the field of smart homes, also keep going. It will also significantly accelerate the construction of applications in the wireless wearable, industrial, smart home, and enterprise markets, with broader applications in homes, enterprises, and factories. In the future, more technology digital consumer products will adopt this standard.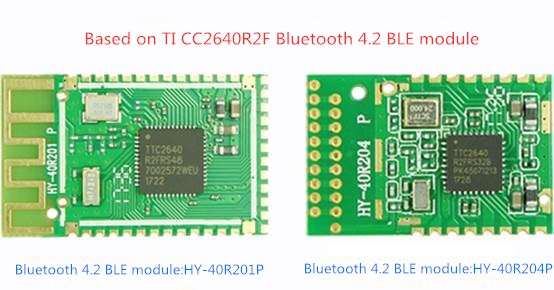 According to a well-known analyst, 13.9 million wireless devices will be launched globally in 2020, and 1/3 of them will support Bluetooth 5.0 technology, which means that more and more IoT devices will benefit from it, and Bluetooth 5 requires upgrading to new chip
As we all know, Shengrun Technology is a R & D and provider of Bluetooth modules. The latest Bluetooth 4.2 module products HY-40R201 and HY-40R204 support Bluetooth 5.0, This module uses TI CC2640R2F chip and has a programmable ARM-Cortex-M3 processor (80KB Available application code space, which customers can use for secondary development), to embed a complete application. Supports bridge mode and direct drive mode, suitable for various smart products.
Shengrun Technology's Bluetooth module can help customers bypass the cumbersome RF hardware design, development and production process. For example, HY-40R204P has a built-in complete Bluetooth 4.2 BLE transmission protocol. Users can quickly learn about the Bluetooth protocol Development and use, combined with a comprehensive software development platform can meet users' needs for rapid secondary development and shorten the development cycle.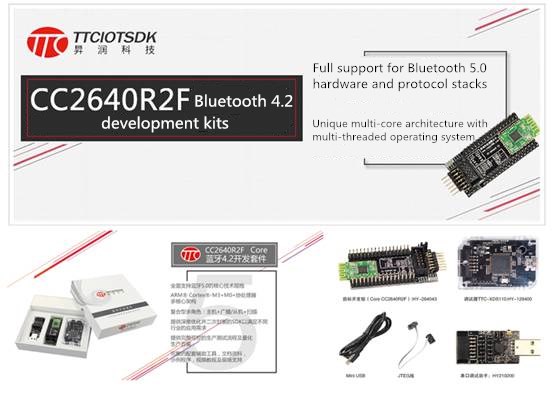 Of course, due to the complexity of the Bluetooth protocol stack, users often develop problems on their own. Combining its own technical advantages, years of market experience, and the actual needs of users in the industry, Shengrun Technology has launched the development of Bluetooth 4.2 based on TI CC2640 R2F chip. Users only need to focus on implementing the required application. PS: TTC CC2640R2 SDK development kit is a rapid development tool for the development of TI's CC2640R2F chip, which fully supports Bluetooth 5.0
As a low-power Bluetooth module R & D and manufacturer, Shengrun Technology has the corresponding solutions in addition to the low-power Bluetooth module, such as: Bluetooth smart lock, Bluetooth smart light control, Bluetooth electronic cigarette, Bluetooth medical equipment, tire pressure Monitoring, etc ...

Any question,welcome to contact us!